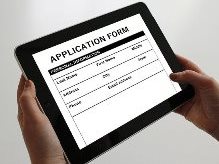 We design interactive / fillable Adobe Acrobat forms. They are not just nice and pretty, but lead to properly formatted and collected information, reducing chances of mistakes made due human factors. Such forms are well readable compared to handwriting. It prevents misunderstanding, saves time and money for both your company and your customers. At last, professionally designed form always a good representation of your business
 
Consult with us if you require a custom form designed for your company. We might have also generic forms available that may serve as a less expensive alternative. The latter ones can also be customized to satisfy your requirements at fraction of cost.
Application form, Order, Invoice, Bill of Lading, Purchase Order, Questionnaire, Internal documents and all other frequently used documents can be made as smart Adobe Acrobat fillable forms.