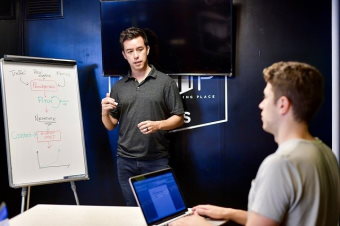 Intelligence Dialogue stands for its name, and provides such an intelligent product as Business-to-Business Integration. B2B Integration is a set of measures and solutions that helps to integrate different information systems or parts of the same system.  There are many cases when B2B Integration comes to be the central or even vital part of the successful business operations or major change in the existing computer system.
Some businesses at some point meet with the requirements of B2B Integration. Business services require EDI communication with customers, ACE/CBP and other government agencies. If we say Logistics or Transportation, we say B2B Integration. The requirements for B2B Integration may arise even within the same company for integration of branches, remote locations or recently acquired entities whose information systems cannot be simply moved into the company main systems in a short time.
EDI (Electronic Data Interchange) is a special part of B2B Integration.  Data Integration and EDI solutions might be required for different types of businesses, not necessarily the large ones.
Working together we will find the most effective and economical solution for your business, reasonable to even a modest budget.
 
See also:
I.T. Consulting
I.T. Brokerage
EDI (Electronic Data Interchange)